Helping cast a spotlight on hunger and the Ontario Association of Food Banks
Did you know that the number of families using food banks in Canada is on the rise? This year saw a 20 per cent increase in first-time users (17,000 new households) across the province. A total of 375,000 families access food banks each month, 35 per cent of which are children.
The Ontario Association of Food Banks (OAFB) this week released its annual Hunger Report (#HungerReport) uncovering important insights into hunger and poverty in Ontario. The Report is a critical benchmarking and public awareness piece for the organization and its members, key decision makers, donors and the public writ large.

Pilot has proudly supported non profit public relations campaigns and the OAFB on a pro-bono basis for nearly 10 years. In support of this year's launch, we designed the organization's 34-page #HungerReport. And to help drive broader public awareness, we created the shareable Hunger Report Highlights document that is being distributed to the OAFB's 125 member food banks, affiliates, community stakeholders and MPs and MPPs across Ontario and Canada.
We've tried to make OAFB members visible through a documentary style approach to photography, bringing readers face-to-face with the people, volunteers and staff who believe so much in the difference a safe space, access to essential services, and a healthy meal can make to a family in need.

To kick off the OAFB's campaign, Pilot has launched an Ontario-wide media relations campaign addressing the root causes of hunger in Ontario. Keep eyes and ears open for Amanda Findley King, one of the authors of the report, who'll be speaking publicly this week on key report findings. Special thanks to Jessica Manuel, a former food bank user, who will be sharing her inspiring story about "breaking the chain" of hunger, poverty and instability in her own life.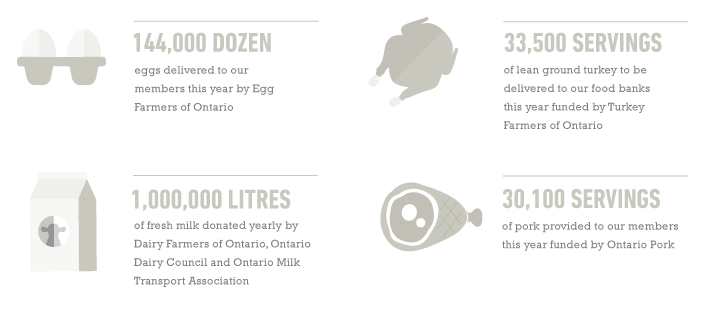 Last year's media announcement surrounding the Hunger Report generated a record 27 million media impressions for the OAFB. Help them spread the word. Every $1 donated to OAFB.ca provides three meals for someone in need. Click to read the Hunger Report Highlights.